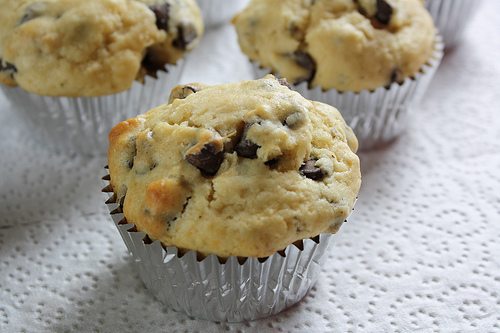 These muffins are truly the best, and the recipe is a great base for experimenting. I have made them so many times, I have the recipe memorized in my heart.
Here is what you'll need:
2 cups Flour
1/2 cup sugar
1 tablespoon baking powder
1/2 teaspoon salt
1 egg
3/4 cup milk
1/3 cup veggie oil
1/2 cup flavor (such as chocolate chips or nuts)
Combine DRY ingredients in large bowl (except for flavor).
Combine remaining in smaller bowl.
Pour wet mixture into dry mixture until moistened.
Add flavor. Pour into sprayed or lined muffin pans. Sprinkle tops with sugar.

Bake at 400 degrees for 18-20 minutes. Makes 1 dozen.
**Quick Bread adaption --> put into loaf pan at 400 degrees for 45-50 minutes.
That's it! Bookmark or print this recipe for future reference and create a must-have food love for all your friends and family!
*image taken from BlogChef.net recipe blog*